5-on-5: Hassan-Bam Duo, SPOach of the Year, Miami Heat's Best All-Around Player?
Commentary
5 years ago
•
13 min read
•
Brian Goins
We've reached the midseason mark and the Miami Heat are on a seven-game win streak. Our expert staff at Miami Heat Beat is here to tell you how to think! Exciting right?
We're borrowing from ESPN's 5-on-5 idea where we take five of our staff writers (against their will)—sometimes a special guest columnist—asking them all the same questions to hear their differentiating opinions (hot takes) on what's going on with the Heat. So without further adieu, let's get started.
---
1. How close is Josh Richardson to being Miami's best all-around player?
Giancarlo Navas: J-Rich is close, and probably by sometime next season, he will be. He has become incredibly patient in pick-and-rolls, has become a much less goofy defender, is trusted to initiate sets and can play the spot-up role so well. In Spoelstra's motion heavy offense with tons of screens and dribble hand-offs, Richardson is growing into a centerpiece in the offense.
I'm gonna throw out some numbers to put J-Rich's season into perspective: Through 42 games, Richardson has posted an effective field goal percentage of 59 percent in dribble handoff action, 48 percent off the dribble and 58 percent on spot-ups. Stats courtesy of @HPBasketball.
Brian Goins: If the Stephen A. Smith-Pat Riley story Jorge Sedano told on The Heat Beat Podcast is true, the Heat already believes Josh Richardson is their best all-around player. This is all the proof I need. Maybe soon, he'll even be a top 20 NBA player, word to David Dufour.
Christian Hernandez: How close? He's already there. Richardson has been showing his tremendous worth all season long on the defensive end, being one of the most disruptive wing defenders in the league. But it's in the last month that he's really come on offensively. It's not just that he's shooting better, it's that he's finding his GAME.
He's becoming one of the best mid-range shooters in the league and his ability to shoot efficiently off the dribble is a necessity for someone aspiring to be a No. 1 option. Richardson has a top 20 ceiling and he's starting to scratch the surface.
Alex Toledo: He's really not that far off. After taking on more responsibility, especially after Dion Waiters' season-saving surgery, Josh Richardson has really improved on his playmaking and scoring out of the pick-and-roll while still serving as the Heat's best perimeter and wing defender this season.
Evan Cohen (ESPN West Palm Beach & Sirius XM): He already is. While Goran Dragic may be the most reliable, James Johnson the most-skilled and Hassan Whiteside the most dominating, Richardson is the only one on the team that has the ability to average 17-20 points per game for the entire season, as well as guard the opposition's best wing on a nightly basis.
By All-Star break next season, he will be looked at as having one of the most team-friendly deals in the NBA. Getting him for around $12 million per year starting in 2018-19 will be a steal, even though he is playing out of position. Richardson is a true shooting guard who plays way more small forward and point guard than he does off-guard. Imagine if he ever can move to his natural position? He becomes a potentially much better version of Avery Bradley, and that is a great thing.
2. With Hassan Whiteside getting healthy and Bam Adebayo playing well, what do you make of the tandem on the court together?
Giancarlo: Bam and Hassan have played 32 minutes during this 7 game win streak and have posted a defensive rating 0f 80.8 and an offensive rating of 93.6. Obviously, this is textbook #SmallSampleSizeTheater but the defensive numbers are eye-popping. Adebayo is mobile enough to blow up pick-and-roll action and can switch.
Whiteside has continued his stellar rim protection. He is holding opponents to minus-11.4 percent of their season average inside of six feet, earning him one of the top marks among qualified players. It has yet to be seen how a two-big lineup would fare in a small ball playoff series and that is the major concern. So far, so good, though.
Brian: From the limited amount of run we've seen, it's turning into a formidable defensive and rebounding pairing, which many had hoped the Bosh-Hassan frontcourt would be long-term. For it to work as a starting unit, Adebayo would need to continue to showcase his jump shooting range and playmaking abilities to counter Whiteside's holes. So far, the rookie has sprinkled glimpses of them in as he's gained more trust from the coaching staff. In due time, Summer League Bam will break free.
Chris: I'm so intrigued by this, mostly because defense interests me more than offense. Adebayo is so versatile defensively, it's sometimes hard to see that the rim is more vulnerable with him being the only big compared to Whiteside. Having Whiteside in the paint and Adebayo chasing down stretch-bigs is a PROBLEM for opposing teams. In their minutes together, the Heat are playing winning basketball, so I'm excited to see this combo get more run.
Alex: I love that Spo wasn't shy with throwing out the Bam-Hassan lineups after James Johnson got the suspension (IBAKA DOESN'T WANT THAT SMOKE). Whiteside hovering around the paint while Adebayo covers ground chasing 4s is……pretty fun to watch. With that being said, Adebayo should still be the future for this team at the 5.
Evan: We do not have enough of a sample size to garner whether or not this works against small-ball lineups. The key is clearly Hassan Whiteside. For example, match them up against the death lineup in Golden State, Bam Adebayo could in theory guard Draymond Green, Andre Iguodola and Kevin Durant if he had to (Yes, I know about Bam vs. Steph!).
But Whiteside really cannot guard any of them. So, the question becomes: "Can he get them to not be able to guard him?" Unfortunately, we have not seen that yet, so I have to say the BamSide lineup is still TBD.
3. With next season looking like Miami will be a luxury tax payer and Wayne Ellington's contract expiring, what do you think they should do with him considering the NBA trade deadline is approaching?
Giancarlo: Yes. Deal Ellington. As much as I love him and as well as he has been, if they can get a late first for him you absolutely take that. The Heat have been very clear they won't be a tax team if they don't have a real chance to win and as much fun as everything has been, we know they aren't beating the Warriors and they are completely maxed out now.
The Heat tend to fall in love with these kinds of teams and hold onto everyone, but recovering a pick when they don't have many would be a wise move instead of keeping Ellington and watching him leave for nothing.
Brian: There's no denying how important Ellington's role is as a sharpshooter on this team. The pace and volume that he's shooting and making 3s (42 percent on more than 10 3s per 36 minutes) is on Curry-Thompson levels. Miami was fortunate to retain him with the help of salary cap gymnastics by Andy Elisburg. Unfortunately, it's going to take a salary dump trade or an overwhelming pay cut in the offseason to keep the team below the luxury tax and Miami's best shooter on the roster next season.
Riley has said getting Ellington's Early Bird Rights for next summer is crucial: "Now we get a chance to negotiate with him." The max the Heat can offer the 30-year old using Early Bird Rights is a four-year deal at around $10-11 million per year. Certainly more than the mid-level exception teams most teams would have available to offer.
Chris: This really depends on what other moves Miami tries to make, but if they cannot create space to sign him to the mid-level exception that he's most likely going to be offered by others, it's in their best interest to get something of value for him. However, he has been so important to what the Heat have done lately that it's not a decision I would want to make.
Alex: It feels like it's become more and more obvious as the season has gone on that the Heat should probably make a trade or two. Ellington has been essential to the team's offense and we might've underestimated what it means to have a consistently elite shooter incorporated into the offense. The Heat shouldn't be looking to deal him unless it's for a late first-rounder or as part of a package for an upgrade. 
Evan: Think about the fact that you can make the argument that Wayne Ellington has been a plus-player for Miami solely on 2's and defense, it seems crazy to say but he's productive even if not shooting 3's, and that has #HeatCulture written all over it.
Ellington had been a Heat killer for years and his signing and subsequent playing time really indicated a shift in Heat approach, and that is a good thing. Whether it was James Jones, Daequan Cook, or Jason Kapono, the Heat never seemed to want to develop the defense part of 3-and-D guys. They either had it or didn't.
However, with all of that praise for Ellington and the Heat said, I would strongly consider moving him if I could net a first-round pick in return (Remember, Marco Bellineli fetched a first-rounder) or if someone was willing to take on a bad contract (Tyler Johnson) with him.
You could laugh at the first-round pick idea, but would Golden State, San Antonio or another great team give up a first to get him? Imagine putting him on the floor with Curry, Klay Thompson and Durant? Now, I could also see Ellington being willing to take less to come back for years to come.
4. Kelly Olynyk has been a major surprise with his production this season. How would you judge the four-year signing half a season in?
Giancarlo: I have been super critical of the signing, not because I didn't think Olynyk wouldn't be productive, but I was skeptical of the years and him defensively. I think the questions about his defense are legitimate, the Heat are five points better defensively per 100 possessions with Olynyk sitting.
Offensively, the Heat are nearly eight points better on offense with Kelly on the court versus off. He is perfect for Spo's flex and elbow sets. He is a willing passer and an agile big who provides the versatility and speed needed to make the offense run. It's a give and take.
Brian: There isn't much to not like about Olynyk's game. While he's earned a "dirty player" status around the league for tearing apart the shoulders of his competitors, having him in Miami has shown how awesome it is to have that guy on our team. Oh, and he can shoot 3s, pass the ball and fake a dribble handoff to the rim with authority?
No, but really, it's nice to know we have a long-maned player that isn't succumbed to the injury report and has scored more points than one formerly-beloved basketball unicorn.
Chris: I was one of the few people who applauded the signing in the moment, however, I was concerned about how they would all fit. Fact is, Olynyk has been one of the three most important players for the Heat this season and has proven he's the most important front court player on the team right now. His versatility as a big man is almost unmatched, and his defense, his biggest wart, has improved as he's learned the Heat's system.
Alex: Olynyk is everything McBob was supposed to be. You always need guys with elite abilities on your team and Olynyk is exactly that with his unpredictable dribble hand-off game. No, but seriously, it's been nice. Spoelstra turned this dude into Canadian Marc Gasol (without the coach-killing).
Evan: Kelly Olynyk can shoot and he can make plays. He has been very good. Now, I am still of the Jason Giambi mindset here. Ok, what does that mean? Think MoneyBall. When Giambi left, Oakland Athletics GM Billy Beane said, "We need three guys to replace him."
Back to the Heat, I am not saying Whiteside is an MVP, but is there any chance both Olynyk and Adebayo were brought in as a combined replacement for him? Wouldn't that be the uber Riley move? Bring in two guys to develop and then have them replace the highest-paid player on the team together?
I initially thought the Heat were zigging (going big) when everyone else was zagging (going small), but I have backed off of that a little bit. I think injuries led Spoelstra into using big lineups rather than liking it so much.
5. What the hell does Erik Spoelstra have to do to win Coach of the Year?
Giancarlo: Get better players. If he was gonna win it, it would have been last year. COY is so weird because when he did revolutionary things with great players (Big 3 era), he wasn't close. When he had mediocre players and went on a 30-11 run to close the year, he lost it to Mike D'Antoni who was contending. None of this makes sense. I hate awards. #DWadeForSixthMan
Brian: Miami would have to finish second or third in the Eastern Conference, which is insane to say considering Spoelstra was one of three contenders for the accolade last season despite fighting for an eight seed. While many in the media are predicting it's Boston Celtics head coach Brad Stevens' award to lose, I could see the narrative shifting sides should Miami go on another second half tear that breaks them over the 50-win threshold.
After all, over their last 82 games (including last season), Miami has had the fourth-best record in the NBA (54-28)—falling below the Warriors (64-18), Celtics (61-21) and Spurs (55-27). They got a head start with their seven-game winning streak. Do they have it in them to make it another 13-game streak, and possibly more? #TrustTheSpocess
Chris: Murder Brad Stevens.
Alex: Finish as one of the top four seeds. If the Heat get a homecourt seed, I truly don't care if All-Seeing Kyrie, Bad Stevens and the Celtics win 60 games. Spo better.
Evan: Miami needs to be a top-two seed. I don't see it happening even if he they are the No. 3 seed. If Spoelstra didn't win it last year, I'm not sure he ever could. He is a Hall of Fame coach. He doesn't need the COY award to cement his place in Springfield.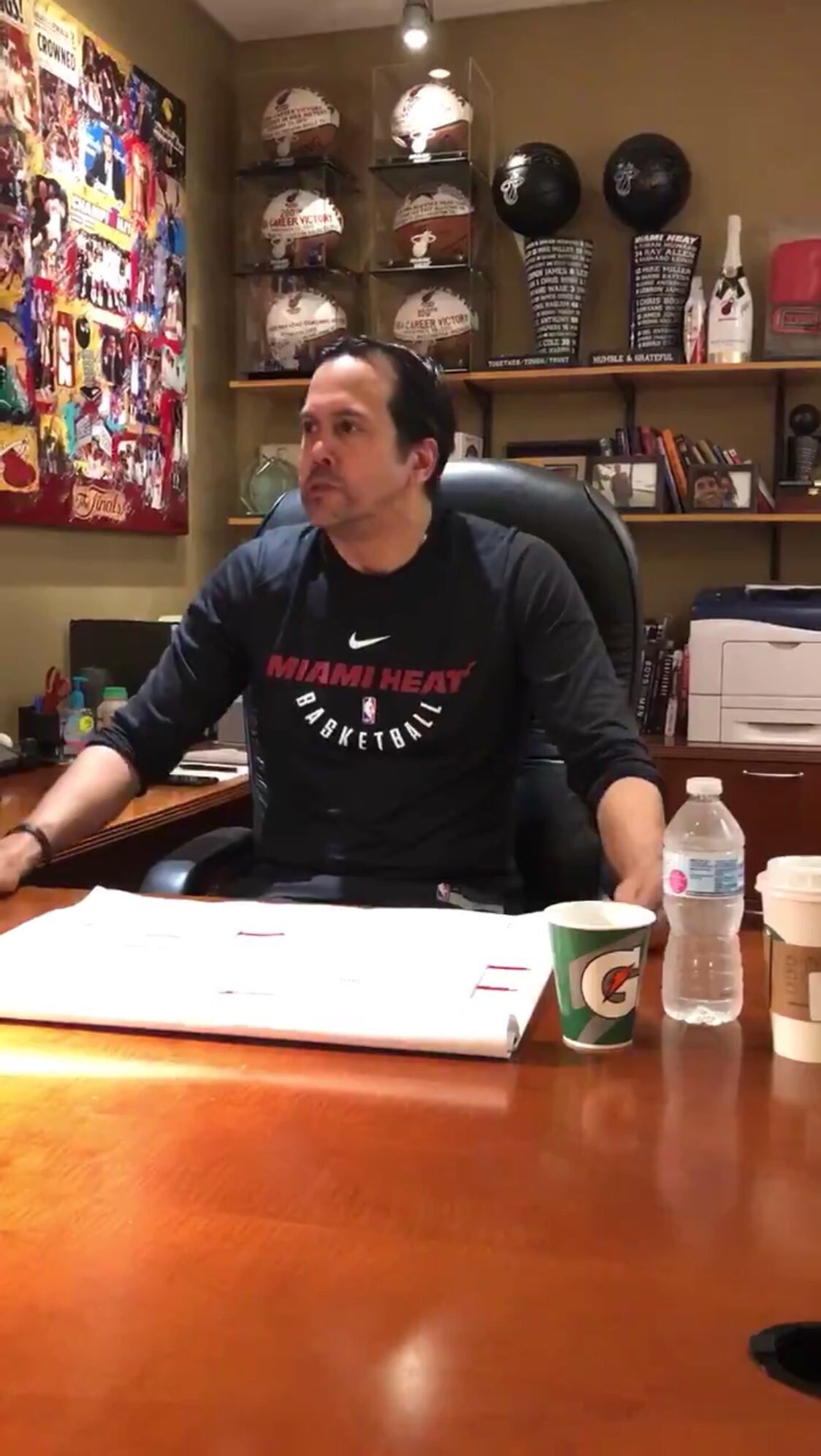 ---
Want more Miami Heat Beat commentary and insight? Follow our writers and special guest columnists on Twitter:
Giancarlo Navas (@GNavas103), Brian Goins (@byBrianGoins), Christian Hernandez (@TheMapleRick), Alex Toledo (@TropicalBlanket), and Evan Cohen (@EvCoRadio).